Junior Maguires - 1835 to 1936
Ireland, in the first half of the 19th century, experienced great poverty and an unhealthy dependence on the potato as the sole diet for ordinary people. The population at this time was approaching eight million people, most of whom were poor, tenant farmers who rented their small plots of land from absentee landlords.
The great enemy of the potato is a disease known as potato blight. This thrives in warm, damp conditions and results in the eventual destruction of the entire tuber. Partial failures of the Irish potato crop were common prior to the 1840s but in 1845 and 1846 a new form of the disease destroyed almost half of the crop. This meant that few potatoes were sown in 1847 and though the blight was less severe, only ten per cent of the 1844 crop was harvested.
Although the failure of the potato crop was unavoidable, the impact of the disaster was compounded by the response of the government. They simply refused to recognise the scale of the problem until world opinion brought pressure to bear following the worst of the famine years.
The Great Irish Famine resulted in suffering, death or emigration for millions of people in Ireland. More than one million people died from starvation and other related diseases. Landlords evicted thousands of families who crowded the roads and workhouses of Ireland, some to die there and others who would flee to North America and other English-speaking countries. The population of Ireland dropped to five million people after the famine ended.
Constantine (murdered 1834)
Hugh (died 1866)

|

Constantine (died 1907), Hugh of Tempo (died 1915), Philip (died 1921)

"Judge" Philip (died 1901)

|

James Hamilton Maguire (died 1936)
Maguire generations 1834 - 1936
It was in this climate of great hardship and change that the Maguire family in Tipperary struggled to come to terms with the brutal murder of Constantine. Although the culprit was apprehended and punished, questions still remained.
The new head of the family, Hugh Maguire, the eldest son of Constantine, and his mother Eleanor Gavan steered the family through these difficult years. Born in 1820 at Tempo, Hugh was educated in Fermanagh at Portora Royal School, Enniskillen. When his father was murdered he was just fourteen years old and as a minor, the family estate was held in trust for him until he reached the age of twenty-one. In a will made shortly before his death, Constantine nominated John Richards and John Collum of Dublin as trustees. A few months before he reached the age of twenty, Hugh entered King's Inns, Dublin to study law. He died, aged 46, on November 14th 1866 while resident at 93 Derby Square, Douglas, Isle-of-Man.
Hugh had three sons: -
Constantine then became head of the family and when he died in 1907, was succeeded by his younger brother Hugh. Hugh returned to Tempo to claim the remaining fragments of the family estate. He represented Tempo on the Fermanagh Feis Committee in 1909 and was well known and respected in the county. He died in 1915, to be succeeded in turn by his brother Philip who remained a bachelor and died without an heir on February 23rd 1921.
"Judge" Philip Maguire
Hugh, the son of Constantine of Tipperary murdered in 1834, had a younger brother called Philip who was born in 1825. He grew up to become the best-known Maguire of his generation. On April 20th 1853, in St. George's Church, Douglas, Isle-of-Man, he married Mary Catherine Moffat, daughter of Thomas Moffat.
Like many retired naval officers, Thomas Moffat settled on the Isle of Man where he lived with his family at 20 Finch Road, Douglas. Before their marriage, his wife had been a member of a French family called Bethune. Their daughter Elizabeth became a noted musician. In 1855, another daughter, Isabella, married John Scottowe, the second son of the Lord Mayor of Waterford, Sir Edmund Scottowe. John was born in 1826 and educated at Waterford Academy. As a young man he had travelled to France and Prussia and through his stepbrother William he became acquainted with Isabella Moffat on the Isle of Man. He became a Captain in the Royal Cumberland Militia and the couple's first child, a daughter, was born in Dublin Barracks. Elizabeth and Jessie, the two sisters of Mary Catherine Moffat became such respected figures that when they died, they were given what amounted to a civic funeral by the people of Douglas.
Philip and Mary Catherine Maguire had twelve children.
James Hamilton

Philip Hamilton

Charles Robert

Jack Proudfoot

Emily Clair

Francis Bethune

Jessie

Edith Bethune

Mary Isabella

Constance Mary

Eleanor Elizabeth

Annie Bethune
In the 1880s the family moved to a beautiful old Georgian-style house at 7 Harcourt Terrace, Dublin. Philip became a respected and successful member of Dublin society and is recorded as being a serving Justice of the Peace in 1897. His period as a Magistrate earned him the nickname "Judge" Philip. He was also in the land appraisal business and a prominent Unionist, supporting the continuance of the existing union of Ireland with Great Britain.
"Judge" Philip died from influenza and pneumonia on March 14th 1901 at the age of 76. During his last days his wife Mary read the Bible to him. His daughter Annie was at his bedside when he uttered his last words to her "God's will be done." The body was taken by carriage from Dublin to his beloved Tipperary. A large procession of people and carriages followed the cortege. Many wore black gloves as a sign of mourning for someone they respected. He was laid to rest on March 18th 1901 in the townland of Toureen near the old family home. Thirteen years later on Saturday January 31st 1914, Mary Catherine, the last surviving daughter of Thomas Moffat, died and was buried alongside her husband Philip in Killaldriff cemetery.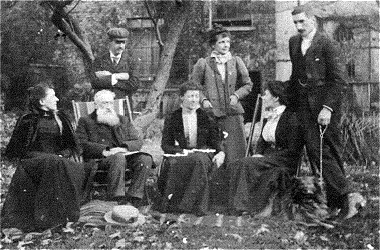 Photograph of the Maguire family taken in the garden of 7 Harcourt Terrace, Dublin. "Judge" Philip Maguire is seen seated in the deckchair. (Photo courtesy of Robert C. Maguire, Charleston.)
Following the death of Hugh of Tempo in 1915 and the subsequent mental illness of his younger brother Philip, "Judge" Philip's eldest son James Hamilton Maguire now became the head of the family. He immigrated to Canada in 1890, then moved to Chicago and eventually settled in Charleston, South Carolina. His brother Jack Proudfoot Maguire also came to the United States and for a time lived in Sioux City, Iowa before going to South Africa with his brother Philip Hamilton Maguire.
James' other brother Charles Robert Maguire, the family historian, went to live in Shanghai, China where he died in 1936. The daughters of Philip and Mary Catherine, with the exception of Edith, continued to live in Ireland at 7 Harcourt Terrace, Dublin.
James Hamilton Maguire
James Hamilton Maguire was the eldest son of "Judge" Philip, the son of Constantine who was murdered in Tipperary. He was born on November 27th 1868 at the family home in Toureen. He grew up to be an intelligent boy with an eye for figures, neatness and detail. These attributes led him to Trinity College, Dublin where he studied prior to his departure from Ireland in 1890 at the age of twenty-two.
James Hamilton went first to Canada and shortly afterwards moved to Chicago where he successfully gained employment as an accountant with a business called Lamm and Company. Soon afterwards, the well-groomed young Irishman settled into his new way of life in the fastest growing nation on earth - the United States of America.
Across in Sioux City, Iowa, a young girl named Eda Munchrath worked as a telephone operator. She was the daughter of Catholic pioneering parents who had settled in Iowa some years earlier. The telephone in the 1890s was a crude device by today's standards. Invented in 1876 by Alexander Graham Bell, a Scottish born American, the crackling instrument was not yet twenty years old. One day, Eda answered a routine call and heard the voice of a young Irishman, a voice that would change her life forever. "What is your name?" the voice asked. "Eda" was the reply. The young man was, of course, none other than James Maguire. From this conversation, romance soon blossomed and on December 9th 1896, James and Eda were married in Chicago.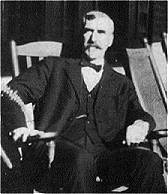 James Hamilton Maguire pictured in the 1930s
The love match was destined for early tragedy when Eda suffered a miscarriage with their first baby. A second child, Annie Bethune was born on November 10th 1900 but died shortly after birth. Rather than divide the couple, this second misfortune only brought them closer together. Four years later in November 1904, a son Philip Hamilton was born to overjoyed parents James and Eda.
The early years of any marriage can sometimes bring financial difficulties. James and Eda were no exception. The family budget had to be managed carefully during these times and the couple often made personal sacrifices in favour of their children. In 1907, James was transferred to the company's office in Memphis, Tennessee. The family moved there and two more sons were born, James Hamilton Junior on December 5th 1908 and Ronald Hugh on August 15th 1910. A few months after the birth of Ronald Hugh, his father took up a new position as accountant with Pearlstine & Sons in Charleston, South Carolina. The family left Memphis and arrived in Charleston on October 24th 1910. With this new job, the family situation improved but financial prudence was still high on the list of priorities.
The southeastern coast of the United States is well known for its hurricanes. These revolving, tropical storms often occur towards the end of the hot season and are accompanied by heavy rainstorms and high tides. On August 27th 1911, Charleston was hit by a large hurricane with winds of 106 miles per hour. The high tide caused flooding in the city and damage to buildings. The Maguires had taken up residence at 214 Ashley Avenue not far from where the hurricane and the subsequent high tide were at their worst. This traumatic introduction to Charleston was overcome with the usual Maguire resilience and before long life returned to normal for the family.
In 1914, James Hamilton received a letter from his cousin Hugh of Tempo, the head of the junior Maguire family. Hugh had returned to Tempo to claim the remaining Maguire estates there. In his letter to James he states that his younger brother Philip was unreliable and of no assistance to him in managing Maguire affairs. Philip was later found to be suffering from mental illness and eventually declared by an Irish court to be "of unsound mind". Hugh suggests to James that he should return to Ireland with the family. James was undecided about what to do so he wrote to his sister Edith "Mollie" Maguire, the watercolour artist living in California, for her views on the matter. In his letter to his sister, James states "I may have to return home to eventually take charge of the Fermanagh estate" and "take it from me, old Gal, we will go side by side and enjoy that to which we are now entitled."
Before the issue was settled, Hugh of Tempo died. Philip then died in 1921 leaving James Hamilton as the new head of the Maguire family. It took several years of legal difficulties to work out the details of the Tempo inheritance but eventually the rents from the ninety-seven parcels of land in Fermanagh came to James and Eda. This was a welcome boost to their modest income.
James Hamilton was always neat and well groomed, seldom seen without jacket and tie. He formed close friendships with the Police Chief and the Lord Mayor of Charleston and often mixed with them socially. In 1932, he suffered a stroke and was paralysed from the waist down. His youngest son Ronald Hugh was in California staying with his Aunt Edith "Mollie" Maguire when his father was taken ill. He immediately returned home. Life for James was now viewed from the confines of a wheelchair.
He continued to battle against ill health and in 1933 was taken seriously ill for a second time. His wife Eda asked him if he would like to see an Episcopal minister as he had been brought up a member of the Church of Ireland like all the children of "Judge" Philip Maguire. He replied that he wanted to see a Catholic priest. His wish was granted and soon afterwards he was baptised and brought into the Catholic Church. Eda's love and respect for her husband must have played a large part in his conversion. For two hundred years the junior Maguire family of Fermanagh had remained Protestant. Now in the twentieth century the head of the clan was again part of the Church of Rome. As in previous centuries, Mass was said in Latin for the safe keeping of a Maguire chief, not in Gaelic Ireland but in the warm sunshine of South Carolina. James Hamilton Maguire died on November 16th 1936 just six weeks before his brother Charles would die in distant China.
Charles Robert Maguire
Charles Robert Maguire was born on January 6th 1870 at the family home of his father, "Judge" Philip Maguire in County Tipperary. When the family moved to Dublin in the 1880s, Charles settled into 7 Harcourt Terrace with his brothers and sisters. He grew up to become among other things, the Maguire family historian. After his education at the Royal College of Science in Dublin, the tall, dashing young man left Ireland to become a mining engineer in China and spent the last thirty-five years of his life living in Shanghai.
Charlie saw the outbreak of the Russo-Japanese war in 1904 and then worked for the London-China Syndicate which was set up to develop the iron mine concessions in China. Among the investors in the venture was King Edward VII, son of Queen Victoria. The mines were not successful and eventually closed. Charlie had worked for nearly two years without receiving any salary and was substantially out of pocket. In July 1910, he travelled to London and took action to secure his lost income. The head of the Syndicate was no match for Charlie. He duly received all outstanding money owed to him including his fare from Shanghai and other expenses.
Charlie returned to China in time to see the rubber plantation slump of 1910 so he decided to buy into the rubber business while the market was at rock bottom. His astute judgement proved to be correct. He quickly doubled his investments before moving out of the business. Between 1912 and 1916 he compiled The China Stock and Share Handbook, which became successful as the definitive guide to the Chinese stock market.
During the First World War, Charlie served as a Second Lieutenant in the Chinese Labour Corps. Because of his special knowledge of the Chinese people, he was appointed Commandant of the Coolie Emigration Depot at Wei-Hai-Wei and served there from February to May 1917. Afterwards he left for Europe and served in France with 18 and 113 Companies of the Corps. In 1918 he was promoted to a full Lieutenant. Under his command, the unit of skilled Chinese labour played an important part in the operations of the Fifth Army during the great advance of 1918 that led to the conclusion of the war. When he finally left the army, his army book states "Lt. C.R. Maguire is a very loyal, capable and efficient officer. He possesses ability and initiative and was responsible for the enrolment of highly skilled Chinese for work in France, which later he supervised bringing the output of work to a very high standard. He refused a Captaincy so as to remain with his Company No 113 (Skilled). He is now leaving on demobilisation having certainly done his bit in the Great War."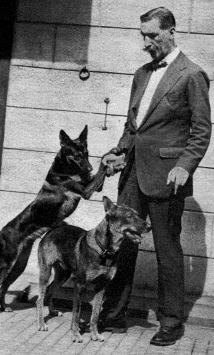 Charles R. Maguire with his dogs
On returning to China in 1920 he found economic conditions less than favourable for investment so he began work on the design and development of the largest individual property in Shanghai on behalf of Mr Henry Morriss, the bullion broker and part owner of the newspaper, the North China Daily News.
Morriss was the owner of the racehorse Manna, the winner of the 1925 English Derby. The trainer was Fred Darling of Beckhampton, Wiltshire and the successful jockey was Steve Donoghue. After the 1925 Derby, Morriss bought the Banstead Manor Stud in Cheveley where he placed Manna as a stud. Future racehorses from this Derby winner included Pasca, Miracle, Manitoba, Colombo and Archidamia.
Charlie went on to complete the Morriss residence, which became one of the great show places in the East. He was by now a wealthy man though he liked to work at his own pace. His astuteness did not go unnoticed by the British Government. During his time in China, Charlie provided the British Foreign Office with intelligence information about the situation in China at some risk to his own personal safety.
An incident occurred in Shanghai, which demonstrates Charlie's courage and determination. It began when some young people broke into the home of Mr. Morriss and damaged a very rare vase. Charlie's manservant detained one of the burglars, a girl, as she ran through the garden. The police were called. The parents of the child appeared and she was released to them. A short time later a group of French police arrived and took the servant away on a complaint filed by the girl's family. Charlie was made aware of the situation and rushed to the police station. From the account given by the police, it seems that Charlie became very irate toward the French police officer and demanded to know why his servant was being detained. The police officer restrained Charlie by handcuffing him.
A newspaper account states "during most of this period, Mr. Maguire was handcuffed and was eventually led out to the steps of the police station where he was ordered to stand, still handcuffed, in full view of a crowd of Chinese who had collected on the other side of the road. Eventually a motor car was procured into which he was further ordered to enter and was ushered handcuffed through the French Concession and the International Settlement to Her Majesty's Consulate. After the police had made their complaint before the Registrar of the Court, Mr. Maguire was immediately released. Subsequently, on interviewing Mr. Maguire, as to his view on the reason for his arrest, he ventured the suggestion to our representative that it was probably owing to his well known proclivity for seeing the humorous side of an otherwise apparently serious situation"
Though the servant was released, a trial was held, as the French were angry with Charlie's actions at the police station. During the trial an outline of the events said, "Mr. Morriss' agent in Shanghai, Mr. Charles Maguire, who is very well known by all in Shanghai, was urgently called by phone to investigate the matter on behalf of Mr. Morriss's staff." Charlie was called to the stand. He described himself as a mining engineer residing in the international settlement and Morriss' agent with power of attorney since 1921. After hearing Charlie's story of the events the charges were dropped.
In a letter to his brother James Hamilton Maguire dated September 1927, Charlie revealed that his personal effects included the Maguire seal given by Robert Devereaux, the second Earl of Essex, who was Governor-General of Ireland and representative of Queen Elizabeth I, to Hugh, the last Maguire ruler of Fermanagh. Among other items willed to his sister Annie, then to Mary his other sister and then to James Hamilton in the event of his death was an antique gold watch. Charles Robert Maguire remained a bachelor all his life. On Christmas Day 1936 he died just weeks after the death of his brother James in Charleston, South Carolina. His obituary in the North China Herald states: -
"With the death of Mr. Charles Maguire in the Shanghai hospital on Christmas Day, Shanghai has lost another old resident. Mr. Maguire, who was about 66 years of age at the time of his death, came to China during the reign of the Empress Dowager as a mining engineer on behalf of a very large foreign company with extensive iron mining interest in the Tatung Valley. Later, after he had severed his connection with the firm, he came to Shanghai, and for some years past has been connected with Mr. H.E. Morriss, taking a great interest in the latter's famous stable of racing ponies. A bachelor, he was for some considerable time a member of the Shanghai Race Club and had a large circle of friends and acquaintances."
The funeral of "Great Uncle Charlie" took place on December 30th 1936 at the Bubbling Well Chapel in Shanghai. Dean Trivett officiated, assisted by Rev. J.L. Brown. After his death the ancient Maguire seal and gold watch were never recovered and their whereabouts still remains a mystery to this day.